Cornwall Council's £1.5m bid for traveller camps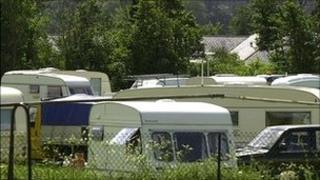 Cornwall Council has put in a bid for £1.5m of funding to provide approved traveller camps in the county.
There are currently about 20 unauthorised sites around Cornwall and the council has identified a need for more than 150 new pitches.
It claims the government money could solve the issues of illegal settlements and provide essential services.
Traveller Dan Dylan said the council had "made promises before and let everybody down".
Mr Dylan said: "We were promised that they were going to look for camps and they were going to find land for us but it never happened.
"The council are making people very, very angry with promises that aren't going to ever come true."
Cornwall councillor for housing and planning Mark Kaczmarek said the council had been "trying to put this in place for a very long time".
A council authorised site would provide running water, electricity, and other services such as school places and benefits.
In return travellers would pay rent and council tax.
Mr Kaczmarek said: "We want to work with people, we want to give them accommodation and we want to give them somewhere where they can live safely", he added.
Unidentified sites
Mr Kaczmarek said that if the funding bid was unsuccessful, the council would have to revert to the "old regime", whereby sites were tolerated and if they became "problematic" the council would have to evict the residents.
He said the council had not yet identified the sites where the Gypsies and travellers were going to live.
"We have council owned land but we also have a number of private landowners who are happy for travellers to live on their land and us to manage it".
Mr Kaczmarek said the public's views would be taken into consideration and "nothing will be imposed upon communities" until discussions and consultations have taken place.
He expects the government to make an announcement in the next few weeks.
Mr Dylan said: "The day it comes true, I'll put a flag on my chimney pot."