Cornish fisherman finds rare slipper lobster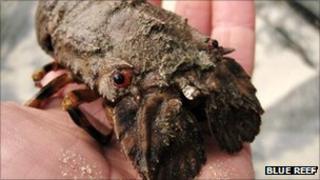 A rare slipper lobster has been discovered by a Cornish fisherman six miles (10km) east of Falmouth.
The lobster, normally found in warmer waters, is one of only a few recorded in the UK since records began back in 1758, the Blue Reef Aquarium said.
It was caught by St Mawes fisherman John Hayse on his boat who discovered it sitting on one of his crab pots.
Aquarium staff are looking after 12cm (4.7ins) long Popeye, who has orange eyes and a dark brown body.
Blue Reef curator Matt Slater said: "It's the first one John Hayse has seen in British waters in 30 years of fishing.
"He was particularly surprised as he'd last seen them in the South Pacific."
The crustacean uses specially adapted plates on its head to burrow in search of food and to escape would-be predators.
Historically, records of slipper lobsters in UK waters have been extremely rare. However, in the past decade sightings have risen.