Council closes tortoise sanctuary to the public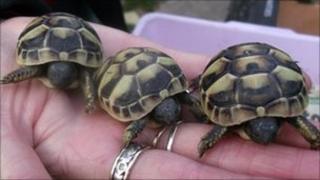 A tortoise sanctuary in Cornwall has finally closed after its owner failed to register it as a zoo.
Joy Bloor had been given 28 days by Cornwall Council to obtain a zoo licence for the Tortoise Garden, in Sticker, St Austell.
Council officers said tortoises were "wild animals" and needed to be covered by the licence.
Ms Bloor, who has run the garden for 12 years, had maintained it was a sanctuary and not a zoo.
'Humble garden pets'
Following a complaint to Cornwall Council in 2009 by a prominent animal rights organisation, the council took the decision to reclassify the sanctuary as a zoo and insisted it should be licensed under the Zoo Licensing Act 1981.
Ms Bloor said she was unable to pay the costs she would incur by obtaining the licence.
The zoo licence costs £275 for the first four years.
In addition there are fees for government-appointed inspectors to assess their site when they apply for a licence along with subsequent formal inspections.
Ms Bloor said: "I would like to thank all those people who have worked tirelessly on my behalf and all members of the public for their support.
"It is with much regret that I have come to this decision but have decided it is the best thing for the tortoises."
However, a number of people who have worked at the sanctuary said they would try to find ways of reopening.
Geoff Lean said: "Some zoological experts will class tortoises as wild animals because they're not been inter-bred."
He added: "They're not in the food trade, they're not in the best-in-show business, they're just humble little garden pets."