Cornish oyster festival expects thousands of visitors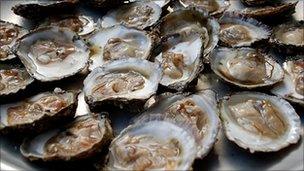 Thousands of people are expected in Falmouth for the town's annual Oyster Festival.
The event celebrates one of Cornwall's oldest industries, and a style of dredging which is still done under sail.
The festival happens in the middle of the five-month oyster season.
The Fal river has one of the last traditional oyster fisheries in the world. Ancient laws mean no engines can be used, only sail and oar.
Some of the specialist Falmouth working boats date back to 1860.
Around 25,000 people visit the festival each year, which includes cookery demonstrations and local food stands.
The Falmouth Oyster Festival takes place in Events Square and runs until Sunday 16 October.
Related Internet Links
The BBC is not responsible for the content of external sites.