Protest on West Cornwall Hospital future fears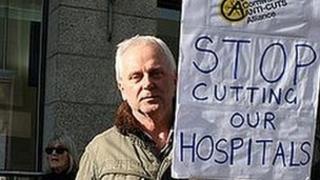 Campaigners fear a Cornish hospital is under threat after the temporary closure of a ward.
About 50 campaigners have protested in Penzance after the Royal Cornwall Hospital Trust decided not to reopen a ward at the West Cornwall Hospital.
The trust said it was a temporary measure and a "clinical decision" which was best for patients.
On Monday, the trust said respiratory conditions would be treated at the Treliske Hospital instead.
Trust chief executive Lezli Boswell said: "Current speculation about our commitment to West Cornwall Hospital is both unhelpful and unfounded.
"We have invested around £5m in the hospital to secure its future as an acute diagnostic and treatment centre, and have not altered our plans to ensure we maximise its use to provide high quality care for patients in the west of Cornwall."
Anthony Matthews, who is from the Cornwall Anti-Cuts Alliance, said: "People love West Cornwall Hospital... I don't understand why people should be treated in Truro when they could be treated in west Cornwall.
"We support the staff, they're brilliant," he added.
On Monday, the trust announced the decision would be reviewed on a month-by-month basis.