Cornwall failed incinerator plan 'could cost £8m'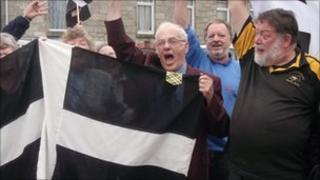 Not building an incinerator in Cornwall could cost taxpayers millions to deal with the county's waste.
The county produces 300,000 tonnes a year and with landfill space running out, Cornwall Council had proposed the incinerator at St Dennis.
This would have avoided transporting waste out of the county and having to pay landfill taxes.
But planning permission was overturned and a council report says associated costs could run into millions.
Communities Secretary Eric Pickles had granted planning permission for the energy-from-waste plant in June.
However, campaigners who claim it could damage people's health and the environment, took their fight to the High Court earlier this month.
No construction
On 13 October Mr Justice Collins ruled Mr Pickles had not properly considered the need for a full environmental impact assessment and overturned planning consent. However he granted the minister leave to appeal.
Such an appeal, the report to the cabinet says, could take four months to return to the High Court and if it then ends up in the Supreme Court, a further delay of eight months could result before a decision can be reached.
These delays could mean landfill taxes and haulage costs could climb to £8m.
Landfill tax was introduced by the government to encourage local authorities to minimise the amount of waste produced.
Until the issue is fully resolved, no further construction can take place on the site.
The waste management firm Sita UK, which was awarded the contract to build and operate the site, has previously warned delays could raise building costs alone to more than £200m.