BBC Children in Need grants in Cornwall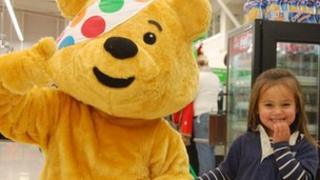 Over the years many organisations in Cornwall have received grants from the BBC Children in Need Appeal.
The main night for Pudsey bear and his fundraisers is Friday 18 November on BBC One.
But throughout November individuals and businesses organise a variety of events, with thousands of pounds each year returning to Cornwall.
Last year alone about £250,000 was awarded in grants to different organisations in the county.
Cornwall Advocacy, a registered charity providing independent support to people with learning disabilities, received a grant for £113,630.
Domestic violence
It helps people with disabilities to make their own choices and speak for themselves. The charity also offers confidential support.
TravellerSpace is an independent voluntary organisation supporting Gypsies, Irish Travellers and New Travellers in Cornwall and the South West to access the services and opportunities available to the wider community and to have a voice in decision and policy making processes.
The west Cornwall based charity received £57,716.00 for a Playbus Project which will see them working further with Gypsy and traveller communities.
Late last year more than £30,000 was awarded to Big Fish Ventures in south east Cornwall. It provides creative development for children, families and communities. Through its activities, the company seeks to inspire personal and community growth and change.
The BBC Children in Need grant for £34,730 supported the development of young people affected by domestic violence or living in care by small group sessions taking place in and inspired by nature and the outdoors.
The Sensory Trust in Cornwall received a grant for about £10,000.
The trust was set up to promote an inclusive approach to design and management of outdoor space, richer connections between people and place equality of access for all people, regardless of age, disability or background.
The BBC Children in Need grant totalling £9,700 will be used to allow disabled young people to visit farms to provide multi sensory experiences in order to increase confidence and accessibility to the environment.
Earlier this year the WILD Young Parents Project in Redruth received a grant of £52,269. This will enable the project to deliver peer training on domestic abuse issues for young mums, helping them and their children feel safer and more relaxed in family relationships.