Christian hotel owners begin gay couple ruling appeal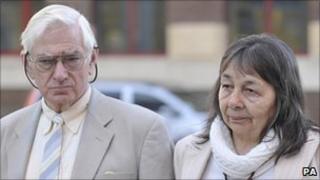 A Christian couple who did not let a gay couple have a double room in their hotel have appealed against a ruling that they acted unlawfully.
Peter and Hazelmary Bull refused to allow civil partners Steven Preddy and Martyn Hall, from Bristol, the room at Chymorvah House in Cornwall in 2008.
The Bulls, from Marazion, were ordered in January to pay £3,600 in damages.
At the Court of Appeal in London, the Bulls said that they were entitled to hold "outdated" religious beliefs.
Mr Hall and Mr Preddy claimed sexual orientation discrimination under the Equality Act (Sexual Orientation) Regulations 2007.
At Bristol County Court in January, Judge Andrew Rutherford said the Bulls acted unlawfully in turning away the couple in September 2008, and ordered them to pay £1,800 each to Mr Preddy and Mr Hall.
At the appeal, Mr Bull, 71, and Mrs Bull, 67, said they thought that any sex outside marriage was "a sin", but denied they had discriminated against the civil partners.
Mr Hall and Mr Preddy were not in court.
The hearing is expected to end on Wednesday.