South Crofty mine team ready to start metals hunt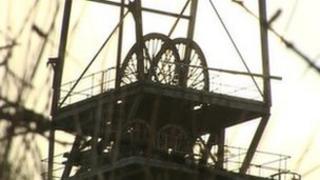 A Canadian company which is buying part of a tin and copper mine in Cornwall is ready "to move aggressively forward" with metal exploration, it says.
The Celeste Corporation announced in May it was buying 25% of South Crofty.
It was supposed to have completed the first stage of its investment by June, but said it became involved in legal and commercial issues.
The company said it had now secured $6m (£3.9m) of funding from a bigger mining corporation in Boston in the US.
The extra investment would now allow it to start work, it added.
South Crofty, near Camborne, closed in 1998 after the price of tin hit an all-time low.
It was the last working tin mine in Europe when it closed.
The Celeste Corporation has operations in the Atacama Desert of Chile, targeting copper, gold, and silver.