South Crofty mine gets £3.3m from Celeste Corporation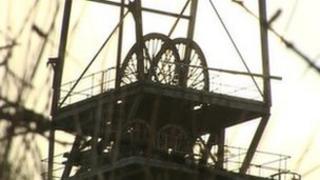 The company which owns the last tin mine in Cornwall has received multi-million pound backing from North American investors.
Western United Mines said it had secured about £3.3m from the investors for the South Crofty mine.
The funding comes from the Canadian company, Celeste Corporation, which now owns 18% of the firm.
The money will be used to identify the exact location of deposits of tin, copper and zinc.
'Wealth of mineralisation'
Celeste Corporation said it was hoping to invest a further £1.4m into South Crofty in the near future as part of an earn-in deal which would increase its share to 25%.
South Crofty, near Camborne, closed in 1998 after the price of tin hit an all-time low. It was the last working tin mine in Europe when it closed.
Alan Shoesmith, from Western United Mines, said: "This is really very good news against the climate of the world economics.
"To have secured this investment for South Crofty mine from a Canadian entity and this entity is actually a very good piece of news indeed."
The company hopes to begin commercial extraction in 2014.
Mr Shoesmith said: "It's a big mine and Cornwall is sitting on a wealth of mineralisation and we're here to extract that."