Public consultation over Cornwall's maritime future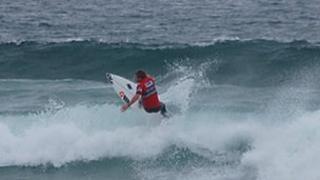 People are being asked for their views on a maritime strategy for Cornwall.
Cornwall Council will launch a public consultation on 7 December on its draft strategy for the future of the county's "diverse" maritime sectors.
These include renewable marine energy, fishing, boat-building, surfing and sailing.
The council said the maritime sector contributed £485m to the county's economy and supported about 14,000 jobs.
Andy Brigden, the council's maritime manager, said the strategy would guide the future direction and respond to its challenges and opportunities.
'Rich heritage'
"We hope anyone who works, lives or plays on the sea or around our coast will take the time to look at this consultation and let us know their views," he said.
Council cabinet member Julian German said the sea had "heavily influenced" Cornwall's culture and heritage.
"Our rich and varied maritime heritage of fishing, trade, industry and communications has contributed to people's sense of local distinctiveness, place and cultural identity," he said.
Mr German said a wide range of experts had contributed to the development of a draft strategy.
"This public consultation is the next step in developing a strategy which will ensure that maritime issues are at the forefront of peoples' minds," he added.
Malcolm Bell, of Visit Cornwall, said tourism was central to the county's economy and its marine and coastal environment, landscapes and activities were a key factor in people choosing to visit.
The consultation will remain open until 18 January 2012.