Cornwall Council vows to cut agency costs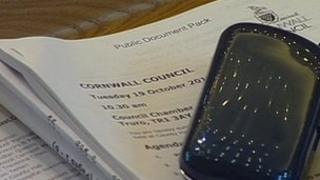 Cornwall Council has pledged to reduce its spending on agency workers after figures showed it spent more than £3.7m in June, July and August.
It also spent £6.7m on consultants, figures for the authority's spending show.
Figures were up on the three months from December 2010 when agency spending was £3.1m and spending on consultants was £6m.
The council said it had already saved £250,000 on agency workers.
The savings had resulted from a new central system for recruiting agency workers introduced earlier this year.
The figures, released by Cornwall Council on bills of more than £500, show it spent £3,723,974 on agency workers in June, July and August and £6,746,429 on consultants in the same period.
Figures for December 2010, January and February 2011 show spending on agency workers of £3,100,786 and spending on consultants of £6,033,124.
The Conservative-Independent controlled council is trying to save £170m over four years.
The budget cuts are expected to result in the loss of about 700 of the council's 20,000 jobs.
Liberal Democrat councillor Alex Folkes said on his blog: "There is always likely to be some spending on consultants.
"It's unreasonable to expect the council to have every type of expertise within its workforce. So occasionally we need to buy in people who are, for instance, experts in railway law.
"But these should be contracts for hours or days, not for weeks or months at a time."
He said a day's expenditure on consultants could save threatened Camelford Leisure Centre "twice over".
"At a time when the council is busy cutting bus services and threatening to close public toilets, the consultants cost seems particularly obscene."
'Avoid redundancies'
The council said in a statement that agency staff were used to "manage increased workload in specific areas or to cover sickness or vacant posts".
It also said using agency staff on a short-term basis was to "avoid the added costs of redundancy or redeployment when a project is finished".
It added: "A new central system for recruiting agency workers was introduced earlier this year to provide greater control over this area of expenditure.
"This has already delivered more than £250,000 savings and is expected to deliver additional savings over the next few months as further controls are introduced."
The council said that it had reduced its spending on consultants over the past two years.
However, consultants were vital for projects like new buildings and roads.
"All spending on consultants is closely monitored to ensure that we get best value for money but this will inevitably go up and down depending on the number of major projects the council is involved with at any one time."