Saltash church helps Zimbabwean youngsters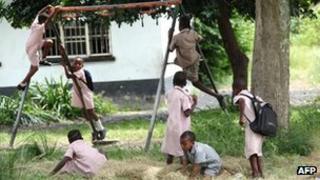 A group from a Methodist church in south east Cornwall has just returned from a visit to Zimbabwe.
Eleven members of Saltash Wesley travelled to Mbare to stay with local families and provide support to a local orphanage.
The two groups have built up a strong relationship over recent years. Teams from Mbare have already visited the Cornish town.
Bob Mahy from Saltash said that although some conditions were difficult, the local people were very welcoming.
He said: "The infrastructure is much poorer and the people are poorer but what we found was a fantastic welcome. It was a privilege for us to go there."
The partnership started around 20 years ago. More recently the congregation in Saltash started fundraising for various projects in Mbare.
School fees
Mr Mahy said: "We provide money which the church uses to help older people who are looking after their grandchildren. Or they use the money for younger women in the congregation to start small businesses.
"Then when they can afford to repay the money, it gets lent to other people."
The members of Saltash Wesley also wanted to help young children in Zimbabwe who were unable to go to school.
Mr Mahy said: "We now raise money for school fees for children which we send out every term. When we were there a group of children we had helped came to sing and dance for us and showed how appreciative they were."
Mbare is a suburb of Harare, Zimbabwe. It is home to one of the country's largest soccer team, Dynamos, also known to its fans as "Dembare."
Mbare is famous for its curio market, which stocks traditional artwork, including soapstone sculpture and Mbira instruments.