Lizard growers hope for lottery funding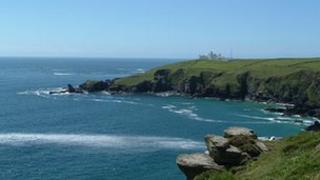 A community smallholding could be set up on the Lizard in west Cornwall with the help of a national television competition.
The Lizard Onions hope to secure a Big Lottery grant worth thousands of pounds from BBC One's Village SOS.
The group wants to rent 15 acres of Tregullas Farm on the edge of the village from the National Trust to produce affordable food.
It includes vegetable crops and rearing cattle, sheep, pigs and poultry.
The Lizard Onions would be helped by a professional grower and would also employ local young people to work the land from 2013.
The group has until February to submit its business plan before the next round of Village SOS begins.
Jocelyn Ellis from the group said: "Initial start up costs will be around £50,000. The biggest part of the funding will hopefully come from the Big Lottery.
"If that doesn't work out, we'd have to think about starting smaller, maybe starting with five acres and seeing how things go. We'll just have to see how it goes."
The most southerly smallholding in the UK would be part of the Soil Association's 'Share of the Harvest' project which has set up similar schemes all over the country.