Fire breaks out at Pendennis hotel in Newquay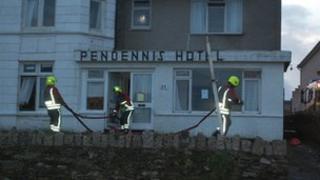 A fire at a hotel in Newquay where squatters have been living is being treated as suspicious, police have said.
Fifty five firefighters battled to put out the blaze at the Pendennis Hotel at Mount Wise on Wednesday morning.
Twelve people were evacuated from a nearby building into a local hotel and the area was cordoned off.
Six fire engines were called to the scene and firefighters wearing breathing gear tackled the flames.
Sgt Reggie Butler from Devon and Cornwall police said: "The fire's now under control. Twelve persons were evacuated.
"They were put in the nearby hotel which was kind enough to open the door so they could stay out of the cold. But they are being allowed back in now as the smoke has died down."
Firefighters arrived at the scene of the incident at about 05:30 GMT.
Nigel Vincent from Cornwall fire and rescue service said: "The wind was in our favour. The Pendennis is contained in its own grounds.
"We have had 55 firefighters on the scene. The appliances have come as far as St Just in west Cornwall."