Truro shops and houses decision delayed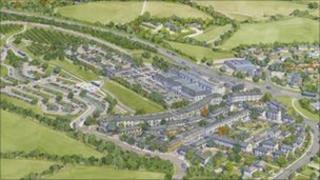 Cornwall councillors have deferred a planning application for a shopping and housing development on the outskirts of Truro amid traffic congestion fears.
A Cornish food hall, a small Waitrose supermarket and 98 new homes near the city's cattle market are proposed.
Cornwall Council, the Duchy of Cornwall, Waitrose and local food producer group The Taste of Cornwall are behind the plan.
The developers say the scheme could create more than 200 jobs.
But councillors agreed the application required further investigation of the impact on the area.
Truro mayor Rob Nolan said: "There's no point in doing it if it's going to make things worse.
"We were also worried that it would be the start of development on the site and there was nothing to stop the area becoming covered in housing.
"We could end up with another sprawling development on that side of town which will make the traffic worse."