South West primary school obesity concerns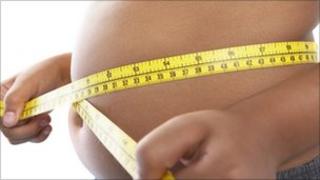 About one in three children leaving primary school in the South West is either overweight or obese.
The statistics come from the National Child Measurement Programme, which weighs and measures pupils in reception class and year six.
Although the number of obese children has fallen in Devon, Cornwall, Plymouth and Torbay, the number who are overweight has risen.
The NHS uses the programme to provide better health services for children.
Obesity figures
The highest rate of obese children in the region is in Plymouth. The results show 18.8% of youngsters weighed were classed as obese, with 14.9% being overweight.
The figures for youngsters covered by the Devon Primary Care Trust show the number of year six pupils who were registered as obese as 16.1%, 14.1% were classed as overweight.
In Cornwall and the Isles of Scilly, 15.7% of those leaving primary school are classed as obese, with 14.3% being overweight.
Torbay has the lowest number of obese children in year six at 15.5%. The number of children classed as overweight was 15.8%.
Nationally obesity has risen slightly in children aged 10 and 11.