Samaritans increase hospital work in Cornwall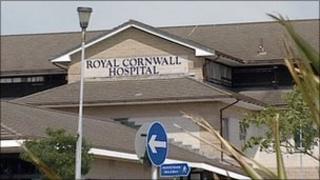 The Samaritans has been asked to extend its work at the Royal Cornwall Hospital in Truro throughout January.
Volunteers from the charity already spend Wednesday nights in the emergency department offering emotional support to patients and their families.
Doctors have now asked them to come in on Friday nights too.
Staff at the hospital said that in January, they usually see more people with mental health and substance misuse problems.
Adrian Flynn, a consultant in liaison psychiatry, said: "January is a difficult time for many of us, facing up the excesses of the Christmas period and dealing with debt."
Extend services
Andy Verr, a consultant in the accident and emergency department, said: "People are often scared and vulnerable and what we find the Samaritans offer is time to listen, to reassure and be present with people.
"In the department we're focused on the medical needs, seeing patients as quickly as we can and getting the right diagnosis, then, because of the nature of the service we're on to the next patient."
For the last two years, volunteers from the Samaritans have spent Wednesday nights in the A&E ward.
Director of Cornwall Samaritans Wendy Overshot said: "We come into the department at about 22:30 GMT and we will speak to the sister in charge and ask if there is someone she would like us to talk to specifically.
"If not we work our way around the ward and talk to whoever happens to be there, responding to their needs."
In the future, the Samaritans hope to extend their service across different departments at the Royal Cornwall Hospital.