Cathedral searches for new choristers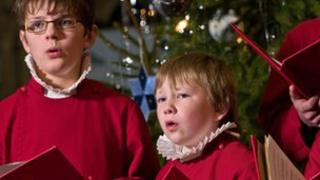 Truro Cathedral is appealing for more youngsters to become choristers.
The Cornish cathedral will be staging its annual auditions at the end of January.
The boy choristers will be educated at Polwhele House Preparatory School in Truro, as well as singing at various times in the cathedral.
Choral Scholarships were first set up in 1995.
The scholarships go towards playing the school's fees and are supplemented by a means-tested additional bursary to ensure that selection is based on ability.
As well as singing for the services in the cathedral, the successful boys will get the chance to go on international tours with the choir, as well as to sing in concerts and make recordings.
At the heart of the choir's duties are its six sung services each week during the term time.
In addition, there are special events such as the service of Nine Lessons and Carols, devised by the first Bishop of Truro - Bishop Benson - for use in the cathedral in 1880.
For their audition, potential choristers will be asked to sing a short piece of music. The youngsters will be assessed on their voice, reading skills, ear and general aptitude.
The cathedral's director of music, Christopher Gray, said: "We don't necessarily want to see a finished product, someone who's been having singing lessons since they were four, we're just as likely to take someone that has never had a singing lesson, but has a very good voice.
"We're quite good at judging that from a very early age."
The auditions will take place at Polwhele House Preparatory School on 28 January.