Penryn innovation centre ready to open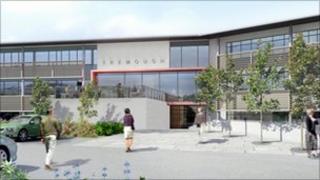 The first businesses will move into the new Tremough innovation centre at Penryn early in February.
The construction work has been finished and decorators are putting the final touches to the £12m business hub.
The centre is the second of its kind in Cornwall and is run by Plymouth University.
It is hoped the innovation complex will create 140 jobs and provide facilities and resources for existing and new firms.
The project is a collaboration with CUC partners, the University of Exeter and University College Falmouth.
Bernard Karen, who oversees both the new Penryn centre and the recently built Pool hub, said: "Our ethos is very much about inclusivity, allowing people to explore and have the opportunity to see if their business can be bigger, better and find more opportunity.
"The Tremough innovation centre is very much focussed on arts, media and creative and environmental and sustainability sectors."
Offices at the Tremough building will be naturally ventilated, radiator heating will be fuelled from a central wood-chip fired biomass boiler and rain water collected for reuse.