ShelterBoxes sent to Brazil after flash floods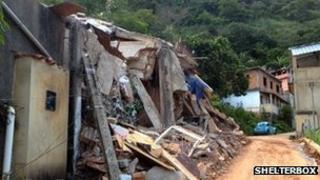 Cornish disaster charity ShelterBox is delivering aid to an area of Brazil after flash floods caused a massive landslide.
On 10 January, more than 20 people were crushed while sleeping in their homes and 350 were left homeless in the district of Sapucaia, Rio de Janeiro.
The disaster took place in the small town of Jamapara.
ShelterBox volunteers are working with local Rotarians to bring in tents and lifesaving equipment.
Residents are being evacuated due to damaged infrastructure and the danger of further landslides.
Each box contains a 10-person tent, blankets, water purification and cooking equipment, tools, a stove and other essential survival equipment.
ShelterBox is continues to assess the need for emergency humanitarian aid in the surrounding areas with the support from Brazilian local authorities and civil defence unit.