West Cornwall Hospital 24/7 urgent care cover proposal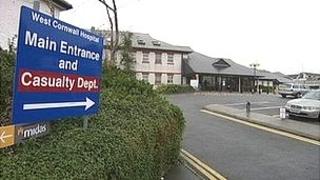 Plans for a 24-hour doctor-led Urgent Care Centre at a hospital in west Cornwall are being proposed.
The Royal Cornwall Hospital's Trust (RCHT) and community leaders are discussing the 12-month pilot project for West Cornwall Hospital in Penzance.
Hospital doctors and GPs would work together to provide round-the-clock cover.
Dr Matthew Boulter, a Penzance GP providing hospital casualty cover, said it was the "right long-term solution".
The service would bring together the current casualty service and a new acute GP clinic. It would also include improved on-site diagnostics and an enhanced CT scanning service.
Dr Andrew Virr, RCHT consultant, said it was a "smart proposal that deserved the support of the local community".
For a number of years people in west Cornwall have been worried about the hospital's future.
In 2007, about 20,000 people protested when the Penzance hospital was threatened with closure.
In October about 50 campaigners protested against the trust's decision not to re-open one of the hospital's wards, although the trust said it was a "temporary measure" and a "clinical decision" which was best for patients.
In November it was then revealed the casualty unit's late shift had been run by a nurse for a year after the trust failed to recruit a doctor.
Lezli Boswell, chief executive of the RCHT, said she wanted to "work with the community to plan future services".
Graham Webster's from West Cornwall Healthwatch said if the new proposal's went ahead it would "overcome many of the teething problems" the hospital has with patients having to go up to Treliske hospital in Truro "unnecessarily".
Caroline Rule, Cornwall Council cabinet member for health, said: "Royal Cornwall Hospital's Trust has always said it has a commitment to West Cornwall but I think the local people have been a little bit sceptical.
"We now have the GPs on board and this is a wonderful pilot project, I think it's great news."