Newquay Beach Niteclub keeps licence after review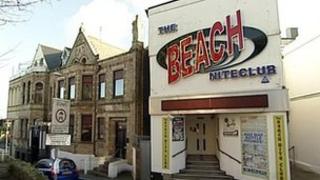 A nightclub in Cornwall under review following a series of violent assaults at the venue is to keep its licence.
There were three "glassing" attacks involving bottles at The Beach Niteclub in Newquay in May, June and September 2011.
Licensing bosses ruled that it could stay open, but under more stringent conditions, including strengthening its policies against underage drinkers.
The club said it welcomed "sensible dialogue" about the situation.
The review was carried out by Cornwall Council's licensing committee at the request of Devon and Cornwall Police.
The assaults involving glass bottles left one victim - a female holidaymaker - permanently scarred.
As part of the review, the club agreed to ensure it served alcohol in plastic bottles or toughened glass only, and to improve its policy over challenging potentially underage drinkers.
It also promised to improve its door layout to reduce noise.
The licensing committee said it accepted the conditions negotiated between the club, the police and the council.
The club said it was "pleased to have entered into a sensible dialogue with the police and Cornwall Council over matters of concern".