Cornwall men attempt pool marathon record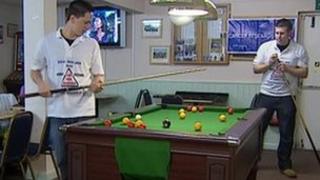 Two Cornish men have played pool for 78 hours in an attempt to break a record and raise money for Cancer Research UK.
Ben Cotton, 23, and Ben Lawrence, 21, from Bugle, are hoping to have their record playing attempt verified by the Guinness Book of Records.
According to the Book of Records, the longest singles pool marathon was 53 hours and 25 minutes by two Americans in 2008.
The Cornish pair played a total of 600 games and aimed to raised £2,000.
'Things got scary'
Mr Lawrence, who claimed he "edged it" against his friend, said: "The nights were worst.
"I was starting to hallucinate. I thought I was trying to put fish in a cannon rather than play pool.
"Things got quite scary."
The pair drank coffee and ate carbohydrate gels to keep going.
Mr Cotton said: "We wanted to do something that would raise money for a life-changing charity.
"We both enjoy playing pool so that is why we chose to do this and to push ourselves physically and mentally."