First businesses move into Tremough Innovation Centre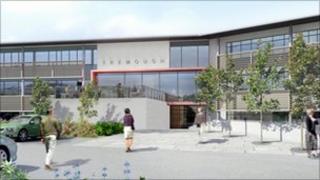 The first businesses will move into Cornwall's new innovation centre in Penryn later.
Three businesses will move into the £12m Tremough Innovation Centre, with more expected in February.
The centre is the second of its kind in the county and is run by Plymouth University on behalf of Cornwall Council.
It is hoped the complex will create 140 jobs and provide facilities and resources for existing and new firms.
Richard Snell, manager of the centre, said: "We're looking for businesses that have a real appetite for growth.
University collaboration
"Predominantly I'm looking for businesses which come from the eco, enviro, creative and media sectors and that's because on the campus those are the pockets of specialisms we hold.
"We're putting in frameworks and giving support and mentoring, there's so many advantages that we consider above office space."
The project is a collaboration with the Combined Universities in Cornwall with the University of Exeter and University College Falmouth.
Bernard Curren, the Innovation Director at Plymouth University, said: "We need to explore the micro-enterprise environment that's embedded in Cornwall and allow it to connect to the fabulous knowledge-base we have within our university structures and colleges to stimulate better business."
Future innovation centre
Martin Wren-Hilton, who will move into the hub with his film production company, said: "You need to have an environment which enables businesses to grow and has a long-term plan.
"Because they've got this wonderful infrastructure here and because there's other people we can mix with it creates an environment which is conducive to innovation."
In 2010, an innovation centre in Pool opened to business specialising in Technology.
Toby Parkins, who runs a software company, said he expanded from two to 12 employees in the first year.
"We've now got another 10 people to recruit so we can now get another office in the same building, so being able to expand so easily and quickly is incredibly flexible," he said.
A Health and Wellbeing Innovation Centre is currently being built in Truro for companies specialising in health. It is hoped it will open in 2013.