Cornwall tax arrears councillors identified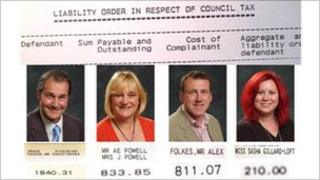 Four Cornwall councillors taken to court because of council tax arrears have been identified.
The councillors are: Chris Pascoe from Truro, Jan Powell from Liskeard, and Alex Folkes and Sasha Gillard-Loft, both from Launceston.
All are Liberal Democrats, although Mrs Powell was a Conservative when she was issued with a liability order.
Cornwall Council refused to identify them, citing data protection, but their names were available in court records.
Council reputation 'tarnished'
The four were issued with liability orders ranging from £1,800 to £200.
Alec Robertson, leader of the 123-strong Conservative-Independent unitary authority, said he was "angry and very disappointed" at what had happened.
He said: "As leader of the whole council, I'm very concerned with its reputation. We rely on the respect and trust of the electorate.
"The vast majority of councillors have worked hard to get that and it's a shame to see that tarnished by a few."
Mr Folkes, Lib Dem deputy leader on the council, was issued with two summonses in 2010 and one in 2011. The final time was for arrears of £811.
Lib Dem group leader Councillor Jeremy Rowe said his deputy would keep his job.
Mr Rowe said: "I don't think it's a resignation issue, but I do think that councillors have individual responsibility to their electorate.
"Speaking to people who he represents, they were all pretty clear he's a very hard-working councillor and is very good at his job."
Ms Gillard-Loft's £210 liability order was issued by Bodmin magistrates on 23 March 2010.
A few weeks earlier, on 16 February, she voted on the council budget while a month and 16 days in arrears.
The law allows councillors to be two months in arrears and still vote on a budget.
Ms Gillard-Loft said: "Yes we are councillors. Some might say we're not the norm, and we shouldn't be treated as such. But, unfortunately, life still happens for us and circumstance still happens for us."
Mr Pascoe was the subject of a liability order at Truro magistrates in July 2011 for more than £1,800.
He said the debt related to a property owned by his recently deceased father, which was the subject of probate at the time.
He said: "I knew I was in arrears and owed money on my council tax, but I didn't know about the liability order.
"There was so much legal stuff going on at the time about my dad dying that I must have just forgotten about it. All I can say is I'm sorry."
The £833 liability order against Mr Powell also names her husband, Tony, a former mayor of Liskeard.
He said the council tax liability was entirely his fault and that his wife had no knowledge of it.
He also said he had no knowledge of the liability order because he thought he had entered into an agreement with the council to pay the debt by instalments.
The councillors' names were found in records at Truro and Bodmin's magistrates' courts.
Their disclosure stems from a joint investigation by BBC Radio Cornwall and the Falmouth Packet newspaper.