Arson suspected in Viners restaurant fire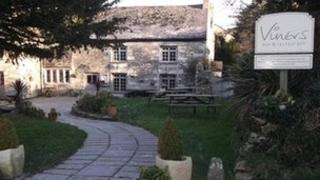 A fire which damaged a restaurant in mid Cornwall is being treated as a case of suspected arson.
Fire crews from St Columb and St Denis were called to the blaze at Viners restaurant at Carvynick Farm, Summercourt, at about 02:05 GMT on Thursday.
Kevin Viner, the restaurant's owner and chef, said he was "shocked".
Devon and Cornwall Police have appealed for anyone with information to contact them.
Mr Viner said: "It looks as though a window was broken and someone started a fire at the rear of the building.
"It is an incident site with the police now and I haven't been allowed inside the building to see the damage."