Cornwall's ShelterBox helps Philippines' homeless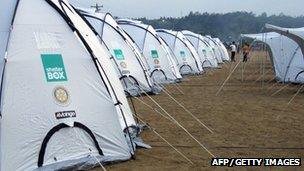 Members of Cornwall's ShelterBox charity have been setting up camps for those devastated by Typhoon Washi in the Philippines.
Thousands of people remain displaced almost six weeks after the typhoon struck the north of Mindanao.
The charity, based in Helston, has been working in the devastated areas of Cagayan de Oro and Iligan.
ShelterBox has been providing emergency shelter and life-saving supplies for thousands of families.
About 50,000 homes in the southern Philippines were swept away in the disaster which happened just before Christmas.
Local scouts, Rotarians and students have been helping ShelterBox response teams set up the shelters.
SRT volunteer Abner Tayco said: "As more ShelterBoxes and tents arrive, more hands seem to become available to put them up.
"They want to help out as much as they can in any way they can."
ShelterBox teams have been to the Philippines eight times in the past five years.
Each box contains a 10-person tent, blankets, water purification and cooking equipment, tools, a stove and other essential survival equipment.
Related Internet Links
The BBC is not responsible for the content of external sites.