Talskiddy people 'shocked' by Duchy Of Cornwall mining rights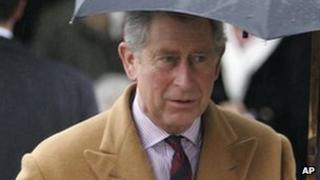 Householders in a Cornwall village have been left "shocked" by the discovery the Duchy of Cornwall owns mining rights for the land under their homes.
Residents of Talskiddy, near St Columb, were informed by the Land Registry of the claims, by post.
The duchy is having to officially register ancient rights if it is to keep them beyond October 2013.
It said the registration did not mean it had any intentions of mining the land.
However, villager Keith Lipscomb said he was "concerned what effect this is going to have on my property".
"I knew nothing whatsoever about this when I bought the property, nothing came up on land searches or mining searches and has not been known to any of my neighbours either."
The Duchy of Cornwall is a private estate which funds the public, charitable and private activities of the Prince of Wales and his family and consists of 53,628 hectares of land in 23 counties, mostly in the south west of England.
Established in 1337, the centuries-old rights were formalised in an Act of Parliament in 1844.
The Land Registration Act of 2002 set a deadline of October 2013 by which the holders of rights needed to register them officially.
Mr Lipscomb said: "I accept that they have the rights and I accept that they are trying to consolidate those rights, but what does concern me is that when I bought the property I bought it without any knowledge of this and it is now going to added to my deeds."
In a statement, the Duchy of Cornwall said it was just responding to a change in the law.
"The Duchy of Cornwall is having to register its mineral rights with HM Land Registry in order to preserve them for the future."
"This does not mean that the duchy has any intention at this time to work the minerals.
"The duchy has owned these mineral rights for many centuries - it is simply a case of the duchy registering its existing rights."