Older Cornish tenants 'should move to clear house list'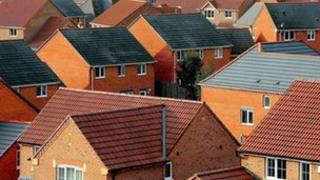 Older Cornish housing tenants should have incentives to move out of larger homes to help clear waiting lists, a councillor says.
The number of people on Cornwall Council's housing register has reached 23,000, it was confirmed this month.
Liberal Democrat councillor Mario Fonk said successful schemes were run by some former county district councils before the unitary authority took over.
The council said a scrutiny committee was looking into the proposal.
Mr Fonk said that such a scheme could include paying for removal costs and offering discounted rents, and made financial and practical sense.
He said: "A lot of people in three-bedroom houses are perhaps pensioners whose family have left, and they can't really afford to heat the property.
"If they could be encouraged to downsize, then it could free up houses.
"Obviously it would be purely voluntary. No-one would be forced to move."
The Conservative-Independent run unitary authority replaced six borough and district councils in 2009.
The council's cabinet member for housing, independent councillor Mark Kaczmarek, acknowledged that schemes run by some of the former authorities had been successful.
He said: "It costs more money to keep people in emergency accommodation.
"Offering small cash incentives encouraged people who were under-occupying houses to move into houses which were more suitable for them."
Cornwall Council said a motion proposing such a scheme had been passed to the Communities Overview and Scrutiny Committee to consider.
It would then report back to a future meeting of the full council, it said.
It added that no specific date had been set, but the earliest it could report back was 22 March.