Tesco proposes new 25,000 sq ft store in Looe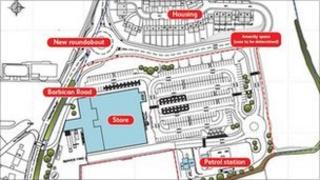 Supermarket chain Tesco has unveiled plans for a 25,000 sq ft store in Looe.
If approved and built, the store, on a 10-acre site on Barbican Road in East Looe, would be the town's first large supermarket and open by summer 2013.
The company said the store would sell food and some clothing. There would not be a pharmacy or cafe.
Also on the site there would be a filling station, community facilities and 30 homes. Some local businesses have raised concerns about the plans.
Business 'threat'
Mercian Developments said half of the homes would be two and four bedroom places for sale and the rest would be for rent or rent-to-buy through shared equity.
The store would create 60 full-time jobs and 120 part-time jobs.
Local businesses have raised concerns about the development.
Chris Elford, who owns a Londis store - one of several businesses on Barbican Parade, said such a store "could be catastrophic".
"It could be the difference between profits and making a loss and going out of businesses," he said.
"The traffic would be terrible, and I think it would put visitors off coming to Looe.
"It could kill the tourist trade and kill local business."
Emma Heesom, from Tesco, said she hoped that it would not be the case.
"Tesco works very closely with existing shops," she said.
"People are getting in their cars on Saturdays and going and spending their money in other towns.
"We really hope we can help underpin Looe and help bring people back."