Eden Project reveals debts of £5m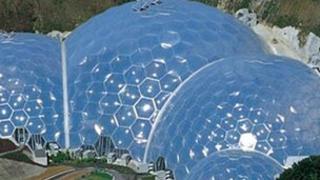 Cornwall's Eden Project has announced debts of £5m.
The attraction near St Austell said up to 35 jobs were also at risk because of the economic downturn.
Last year it recorded losses of £1.78m, partly blaming the floods of November 2010 which forced it to shut for a week and its ice rink to close for a month.
A redundancy consultation is under way at the site which employs between 490 and 700 people depending on the season.
Gaynor Coley, Eden's managing director, said: "We are overall in debt about £5m - but a £5m debt on a £140m asset with a £20m turnover is a very reasonable level of debt, particularly in this climate."
She added that visitor numbers over the year had been healthy but the project needed to make sure it was fit for the future and offering excellent value.
She also said that the consultation review would look at all levels of staff.
According to the Association of Leading Visitor Attractions, visitor numbers at Eden in 2009 and 2010 fell year on year and the project received just over one million visitors in 2011 - down 3% on the previous year.
Malcolm Bell, of Visit Cornwall, said: "We will be looking to see how we can help. I am sure Eden's team will be working hard and creatively.
"It took innovation to create Eden and I am sure that pool of talent will be there to see it through these troubles."