Dartmoor green energy planning decisions 'need balance'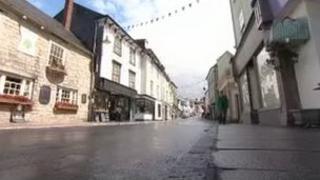 Balance is needed when deciding if green energy equipment should be put on historic buildings in Dartmoor, the park's national authority says.
It comes after a resident in Ashburton criticised the park for not allowing her to have solar panels on her Grade II listed house.
Audrey Ryder said the authority, which is in charge of planning, wanted to keep a "chocolate box" image".
The authority said it was conscious of green issues in making decisions.
'Efficient energy needed'
Ms Ryder's home is next to the town's Grade I listed parish church.
She said: "We have got to move into the 21st Century and address the subject of renewable energy. We can't be kept living in a chocolate box museum.
"We are living people who need to function and exist in a progressive world where we need energy produced by the most efficient way and renewable sources are one of these."
The authority said listed buildings were protected nationally as important heritage assets.
It added that if it was a choice between renewable energy and protecting assets from harm, assets had to take precedence.
The park's director of planning, Stephen Belli, added that there were three reasons for refusing the application - the impact on Ms Ryder's home, the impact on a local conservation area and the impact on the church.
He said: "What matters is what's going to be the impact on a building and the fabric of that building.
"[And] if the panels are visible, it doesn't matter, as there would be an adverse impact on the parish church next door."