Cornwall bikers urged to carry CRASH cards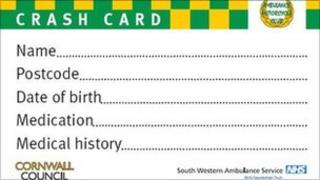 Motorcyclists in Cornwall are being urged to carry a new medical card which contains potentially life-saving information.
The CRASH card has details of the rider's age, medical background and any medication they are taking.
It has been designed to be kept in the lining of a motorcyclist's helmet and is the size of a bank card.
The CRASH card was designed and created by the Ambulance Motorcycle Club.
Council road safety officer, John Macneill, said: "The paramedics wanted to be able to get vital information, quickly, at the scene of a crash and they came up with this idea.
"The card is put inside the helmet with a sticker on the outside to indicate the rider has the card."
The ambulance service is working with Cornwall Council to introduce the card.