Siblyback Lake ski cable will 'impact lake sports'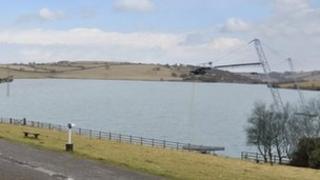 Windsurfers and sailors at a Cornish lake have said plans to build a cable water-ski system will restrict other water sports.
The South West Lakes Trust wants to install a £300,000 system, which it has planning permission for at Siblyback Lake, to boost tourism.
The system means wakeboarders and water-skiers are pulled along by electric cables rather than a boat.
But other users say it means part of the lake will be out of bounds to them.
Sailor Chris Redgrove said the measure would reduce the sailing area.
He added: "The centre part of the lake, basically that's all we'll be left with, except in certain wind conditions where it will be possible to use the top end."
View 'gone forever'
As part of the plans, five 10m-high (32ft) lattice towers will be placed in the water with cables running between them.
Windsurfer Rachel Redgrove said: "The children last year at windsurfing worked really hard to get to the national championships, but that is now going to be taken away from them because they won't have the same area in which to train.
"There's a lot of people who come up here, sit in their cars, have a cup of tea, read the paper and look out at the view, and that's going to be gone forever."
The trust's Cornwall area manager, Costa Hadji-Argyris, said the system should not impact on other users.
He said after visiting a similar cable park, he "barely heard the system working" and "could barely see it".
Head of resource planning James Platts said the trust had previously sought the views of the British Water Ski and Wakeboard Federation.
"They said it could have a draw for people," he said.
"The project is about sustainable tourism and sustainable use, so the tourists coming down in the summer can keep this going for locals in the winter."