Penhallow fire victims' relative wants safety changes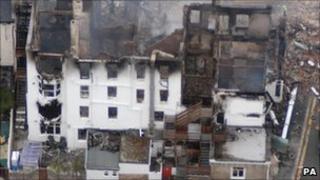 Changes need to be made to how hotel fire risk assessments are carried out, according to a man whose relatives were killed in Newquay's Penhallow Hotel fire.
John Hughes lost his mother and brother in the fire on 18 August 2007.
The hotel had no sprinkler system fitted and Mr Hughes said he was concerned hotels could still carry out their own fire risk assessments.
Cornwall Fire and Rescue Service said it was sure lessons had been learned.
The fire at the 54-bedroom hotel was described by firefighters as the worst British hotel fire in 40 years.
It resulted in the building being demolished.
'Award prerequisite'
About 90 people managed to escape from it, but three people from Staffordshire died as a result: Monica Hughes, 86; Peter Hughes, 43; and Joan Harper, 80.
Speaking at a firefighters' seminar held at the Eden Project, Mr Hughes said: "You need hoteliers to be able go to a body to ask: 'Where is an accredited person to do a fire risk assessment?'
"Hoteliers can currently do fire risks themselves, and I think that's where it falls down."
He added that fire assessments should also form parts of other accreditations or awards.
He said: "People like the RAC and the AA should ensure fire assessments are in place as a prerequisite for awarding stars."
Cornwall Fire and Rescue Service hosted the seminar, which was attended by fire officers from across the country.
Chief Fire Officer Des Tidbury said the service had been involved in many fire risk assessments since the Penhallow blaze.
He said: "We've done a lot of concentrated fire safety audits at hotels and hostels throughout the county.
"I'm as satisfied as I can be that this won't happen again."
The hotel's owner, O&C Holdsworth Ltd, of Harrison Road, Halifax, Yorkshire, admitted two charges relating to fire safety breaches in March 2011.