Cornish tourist denied 'local' fuel by garage on The Lizard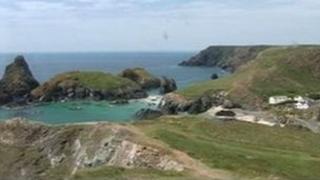 A holidaymaker trying to return to Eastbourne from Cornwall in her motorhome has been denied fuel at a garage because she was not local.
Annie, who would not provide her surname, said Kynance Garage on The Lizard would not allow her any fuel because she was not from the area.
Garage owner, Henry Johnson, said he was "forced to ration fuel" for account holders and to £10 for locals.
Annie said she would not be returning to the county.
'Locals only'
She said: "We were due to go home and the campsite owner told us to go to the garage, but he took a look at our motorhome and said 'you're not local are you'?"
She said she told Mr Johnson that the vehicle only needed a top-up of diesel to reach Eastbourne but "he said 'no I can't sell you any, locals and account holders only'".
Mr Johnson did contact another garage in the area to help the family out but it had run out of fuel. The holidaymakers later managed to get fuel at a supermarket garage.
Annie said: "We've spent quite a lot of money in Cornwall, it's where I grew up and it was a trip down memory lane and until that point it had been lovely, but it's put us off completely."
The owner said his supplies were "running low" and he was not expecting a delivery of fuel until after the weekend.
The distance between Kynance Garage and Eastbourne is 315 miles (507km).