Noise complaints for Lostwithiel Town Band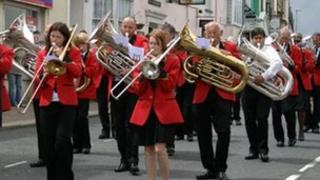 A town band in Cornwall may be forced to find a new rehearsal space following complaints about noise.
Lostwithiel Town Band rehearses three nights a week and on Saturday mornings at St Saviour's Chapel.
But Cornwall Council said it had received two noise complaints and found the noise had the "potential for adversely affecting local residents".
A band spokesman said it was "greatly worried" and needed somewhere permanent to rehearse.
Noise abatement notice
Band secretary Carol Carter said: "We've got over 75 members in this band and it just seems as though those 75 are being over-ridden by two people."
Jane Whitehead, who also plays in the band, said everyone was worried and "now our eyes are off the ball as far as the music goes".
She added: "We're now having to think about what we're going to do because wherever we go we've got to take our stands, chairs and instruments, that means an hour rehearsal turns into a two hour rehearsal."
The council said an environmental health officer had attended one session and found the noise to have the potential to impact local residents.
In a statement it said: "The LTB [Lostwithiel Town Band] has been given informal advice as well a recommendation that they contact an acoustic consultant to establish if the sound insulation of the Chapel can be upgraded."
The council added that "if this assessment demonstrated that the music was of such volume, frequency and duration that a statutory nuisance was being posed, then the council would be obliged to serve an abatement notice".