Threemilestone housing: Cornwall Council defers decision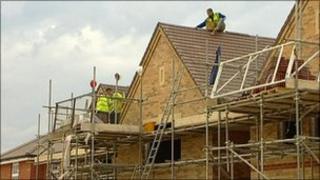 A decision on a plan for 1,500 homes near Truro has been deferred.
Cornwall Council was due to consider the proposal, which also includes a hotel, school and care home, for greenfield land at Langarth in Threemilestone.
Inox Group, the developer behind the plans, is also involved in separate plans for a controversial sports stadium on a neighbouring site.
The council said it needed time to consider new information.
In a statement, the strategic planning committee's chairman had agreed to a request from members for extra time to scrutinise additional information which was received late on Wednesday.
A date for a future meeting will be announced later.
Up to 35% of the proposed homes, would be social housing and if approved, the scheme would be developed over the next 10 to 15 years.