Tintagel stewardship scheme includes grazing at Glebe SSSI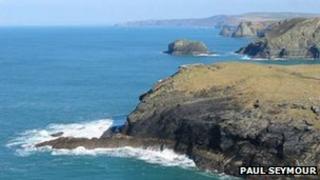 Rare breed sheep and cattle are to graze a Site of Special Scientific Interest (SSSI) in north Cornwall.
It is part a new 10-year Higher Level Stewardship Scheme (HLS) to improve the cliffs and coastal land at Tintagel.
The Natural England scheme will help the National Trust manage it in an environmentally sensitive way.
The sheep and cattle will graze for part of the autumn and winter, allowing ground-nesting birds and flowers to be undisturbed in the summer.
The area was given SSSI status by Natural England in 1998 because of its important botanical and geological features.
The public body said the cliffs, coastal margins and offshore islands at Tintagel also provided valuable breeding sites for a variety of bird species, including peregrine falcons, razorbills, kittiwake and puffins.
'Minimize visual impact'
Mike Simmonds, the National Trust's head ranger for the area said Natural England's long-term commitment indicated how important the site was.
The scheme will involve some fencing being erected to confine grazing to particular areas.
"We recognise fully that introducing new management may have impacts on local users, dog walkers and visitors as well as the landscape," Mr Simmonds said.
"Obviously the safety and welfare of the grazing animals is important, but, crucially it is also important to minimise the visual impact on the landscape and continue to allow free public access as far as possible."
The National Trust is holding an open day at Glebe Cliff on 27 April and work on the site will begin in the summer, with the first grazing period over the winter.