RNLI lifeguards teach beach safety to Cornish school pupils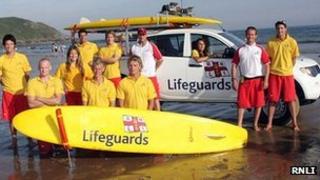 Children at schools in Cornwall are to be taught beach safety skills by lifeguards from the Royal National Lifeboat Institution (RNLI).
The beach lifeguards will visit 238 primary schools as part of a pre-season safety education programme.
Children will be taught how to identify safe places to swim, what beach flags mean, dangers to watch out for on the beach, and what to do in an emergency.
Seven to 11-year-olds will take part in 30-minute interactive sessions.
'Essential' learning
The lifeguards have been trained in techniques and skills needed to interact with children in a classroom, and how to make the sessions fun.
RNLI lifeguard manager Dave Gorman said the education programme would run alongside the charity's pro-active lifeguard service on 57 of the busiest beaches in Cornwall.
"It's these youngsters, growing up on or near the coast who will be visiting the beach with their families over the summer and it's essential that they start learning about the beach environment at a young age," he said.
The programme will run until the official start of the beach season on 5 May.