Plant hire firm Jack Harvey Ltd told to pay £2.25m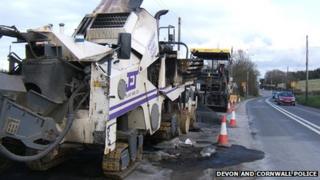 A Truro business faces being wound up after a court heard its proceeds from crime amounted to more than £2m.
In 2010, Jack Harvey, 69, a plant hire boss from Polwhele in Cornwall, was jailed for intimidating rivals and setting fire to their equipment.
Truro Crown Court heard the company, Jack Harvey Limited, would have to be sold off so the £2.25m could be paid.
The judge said for six years, 40% of the business involved stolen machinery. The firm has refused to comment.
The 2002 Proceeds of Crime Act gives courts the power to strip criminals of illegally obtained assets.
Det Supt Michelle Slevin, of Devon and Cornwall Police, said: "For many years Jack Harvey thought he was above the law and would never be caught.
"Today is the final part of the prosecution's case and has clearly outlined how since 2003 and beyond Jack Harvey has been living from the proceeds of crime."
Det Supt Slevin said she believed the amount the company had to pay was "a fair order" and it reflected the "professional and meticulous work".
In 2010, Harvey was sentenced to 12 years, which was reduced on appeal to nine-and-a-half years.
He was also found guilty of receiving stolen goods.
After his conviction, Harvey was ordered to pay nearly £800,000 in compensation to his victims.
Harvey's trial was told he had run a plant hire business in Truro for 30 years, but, after losing a major road repair contract, he set fire to seven pieces of plant machinery owned by the firms that won the work.
The driver of one lorry was asleep in the cab of his lorry when it was set alight.
After Harvey was sentenced, Det Supt Slevin said some witnesses had been too frightened to give evidence against Harvey, who used "threats and intimidation" to get his own way.
Money recovered under the Proceeds of Crime Act can be used to help fund local community initiatives.