New Cornwall free school 'waste of money'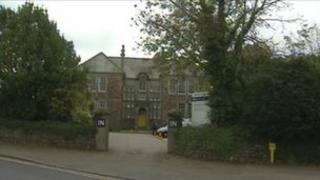 Spending on new premises for Cornwall's first free school has been branded an "absurd waste of taxpayers' money" by Liberal Democrats.
The Department for Education has bought an old grammar school site in Camborne for St Michael's Catholic Secondary for about £700,000.
The school rejected criticism, saying the new school would increase choice.
Free schools are state-funded schools started by parents, teachers or other groups.
Education Secretary Michael Gove said such schools would "raise standards in communities where the need is great" when he granted the school its free status with another 78 around the country last year.
Free schools allow groups of local parents, teachers or charities to establish their own schools and, like academies, will be outside local authority control receiving money directly from the Department for Education.
'Leaky roofs'
The independent co-educational St Michael's, which opened in 1998, currently has about 25 students in Truro.
The new free school is on track to open this September with plans to eventually provide room for 300 pupils.
It will be independent of Cornwall Council, with the freedom to choose its own teaching hours, curriculum and how to spend its money.
Councillor Graham Walker, shadow education spokesman for the Liberal Democrats, said: "There is no demand in the area, or in Cornwall. The county has 8,000 extra places.
"The county also has an £18m maintenance backlog, there are schools with leaky roofs and drafty windows and they have been given £700,000."
'Range of choice'
Joyce Sanderson, chair of St Michael's steering committee, pledged St Michael's would be "open to everyone" and said she was confident there was a lot of interest in the new school.
She said: "The need for another school depends on a different type of school and this school will be different in several ways.
"There is no faith secondary school in Cornwall at all. Virtually every other county has a choice.
"We have had expressions of interest from 470 pupils."
She said the school would not take "large numbers" of pupils from other schools in the area.
"I find it hard to believe that those schools would be financially distressed because a few children moved to St Michael's.
"I don't know whether they need financing. But it is a matter of the range of choice."