Unison says Cornwall refuse contracts 'detrimental'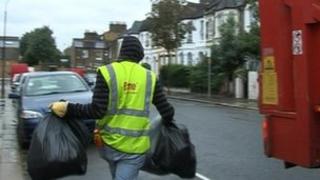 Refuse workers in Cornwall have been forced to sign up to "detrimental" work conditions through a "veiled threat", according to a union.
Unison will meet with Cory Environmental to discuss the conditions of 450 employees later.
Some workers have said they have lost overtime, holiday and sick pay.
Cory Environmental said it had consulted with the workforce and all had agreed to the conditions, resulting in higher pay for many.
Stuart Roden from Unison said changes to the contracts meant workers would increase their weekly hours from 37 to 40.
'Pressurised into accepting'
Holidays had been reduced from 28 days to 20 and people would only receive sick pay after the first three days and up to a maximum of six weeks.
He said: "There was this veiled threat that if they didn't sign up they would be dismissed and re-engaged.
"I think they felt pressurised into accepting what, for many of them, are detrimental changes to their conditions which they've taken many decades to win."
But head of Cory's Human Resources, Toby Warren, denied the allegations workers were threatened.
He said: "We have made a number of changes to people's contracts. We've consulted over four months with the employees concerned individually.
"Nobody has any less favourable pay arrangements. Where some things have changed we have made some payments to reflect those changes.
"The offers were agreed and accepted by all the employees involved."
Meanwhile Cornwall Council said it was answering more than 1,000 calls a day about missed rubbish collections in the county since Cory Environmental took over the county's refuse services on 1 April.