St Ives swimming pool boss defends £250,000 repair cost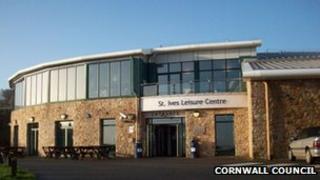 A Cornish swimming pool has had £250,000 investment from its new management company.
New heating and ventilation systems have been installed at St Ives Leisure Centre.
The centre was transferred from Cornwall Council to Leisure Connection Ltd as part of £1m savings across all the council's leisure services.
Centre manager Chris Perry said the investment would save money in the long term.
He said the new ventilation system will mean less chlorine has to be put in the pool, while the heating system will enable better temperature control, making the building more energy efficient.
"It's a large initial investment for long-term gains," Mr Perry told BBC News.
"The air handling unit is up to date and efficient, so the energy savings on a month-by-month basis will pay it back in a short period of time."
The leisure centre also has a fully equipped gym and a dance studio.