All Cornish beliefs should be celebrated in schools, Diocese of Truro says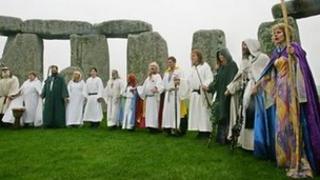 Cornwall's heritage and religious beliefs should be celebrated in Cornish schools, according to a director at the Church of England's Diocese of Truro.
Sue Green, director of education, said Cornwall's heritage was "quite unique" and must be celebrated.
The director said the syllabus suggested if there was an important religious aspect of beliefs such as Paganism, teachers should "explore it".
"We must celebrate the spiritual and religious heritage for our children."
Ms Green said: "For many of our schools there will be children who come from Pagan families and we wouldn't want those children to feel marginalised."
But she added, that "no school is being told to teach about Paganism".
In Cornwall, the Standing Advisory Council on Religious Education (SACRE) looks at what should be taught in schools in the fields of faith and belief.
It is made up of religious representatives, local authorities and teaching associations and SACREs in some parts of the UK have representatives of modern Pagan religion, which includes Wiccans, Druids, Shamans, Sacred Ecologists, Odinists and Heathens.
Cornwall councillor Loveday Jenkin, who sits on the panel as a local authority representative, said it was right that children learned about all aspects of faith and religion.
"Paganism is recognised as a faith and all faiths should be respected," she told BBC News.