Millendreath £50m holiday village could create 100 jobs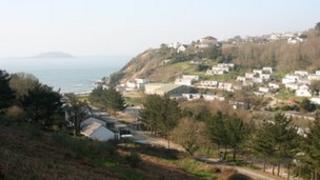 A £50m investment in a former holiday village in south east Cornwall is expected to create about 100 jobs over the next five years.
Espalier Developments has plans to build 150 luxury holiday homes on the site in Looe.
The location, which has been derelict for 10 years, will also include a leisure complex.
Armand Toms, Conservative councillor for Looe East, said it could help "unemployed youngsters in the area".
He said: "I know that in the Liskeard Looe area there are about 205 youngsters between 18 and 25 that are unemployed and we need to be mindful that to give them a job is our future."
Espalier managing director Rick Gibbs said about 75 jobs would be created in construction over the five years with about 30 permanent jobs when the project was finished.
'Spin-off for economy'
Millendreath was first established as a holiday village in the 1950s with its own private beach and lido, but over the last 10 years has fallen into disrepair.
In the 1960s consent was granted for 280 holiday chalets - 176 were subsequently built with a pub and club building.
But since that time the facilities have closed and remain vacant, while only about 50 holiday chalets are still occupied, under varying tenures.
Mr Gibbs said the company saw itself restoring the site with potential to be a "world-class destination".
Mr Toms said: "The spin-offs would be not just for south east Cornwall which would be great, but it will be the spin-off for the rest of the county as well."