Emails and texts for fishing quota changes spark concern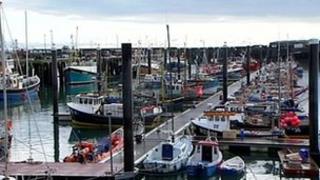 Cornish fishermen are concerned that reminders about changes to fishing quotas will only be emailed or texted to crews in future.
Defra said the cost of letters was too expensive and that it would use its website, emails and texts for updates.
Skippers said it could put more pressure on those without access to the internet and mobile signals at sea.
In the past, legal notifications, called variations, have been posted to fishing crews.
But now skippers will have to check the department's website and sign up for text and email alerts as part of the Sea Fishing Regulations 2012.
Some fear the paper-cutting exercise puts them at risk of unknowingly exceeding quota limits if changes are made while they are at sea and they cannot receive the information.
'A lot harder'
Cornish Fish Producer Organisation board member and Newlyn skipper Tom McClure said the number of variations ranged from about 12 to more than 30 a year.
He said: "For the the bigger boats, the technology [to receive and print out changes] is not a problem.
"For those that don't, it's going to make life a lot harder.
"It might be more efficient for government but, for the small boats, it's going to cause a lot of problems."
The government said the new paperless system would be faster, more effective and save a lot of money.
Nick Wright, from the Marine Management Organisation, which overseas licensing and quotas, added the changes meant that "information is much more targeted".
He said: "They [fishermen] just get notified that there is a change that affects them, and then they can go and find out how that affects them."