RNAS helicopter rescues ill Marco Polo cruise passenger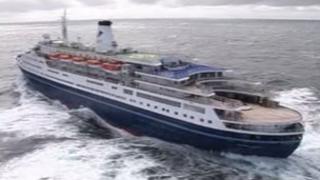 A helicopter from RNAS Culdrose in Cornwall has carried out a long range rescue to airlift a cruise passenger to hospital.
The 83-year-old man suffered a heart attack on board the cruise ship Marco Polo which was sailing from Cork in Ireland to France.
The helicopter pilot said the "tricky" airlift was carried out in gale-force winds and rough seas.
The casualty and his wife were flown to the Royal Cornwall Hospital in Truro.
The rescue was coordinated by Falmouth Coastguard after a call for help from the cruise ship just after 11:00 BST.
Lt Rob Spinks said: "We picked up the casualty and his wife from the ship which was about 100 miles out - so it was quite a long transit which took us about an hour."
The patient's condition is not known.