National Trust rethinking Tintagel cliff fence plans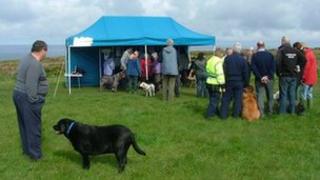 Plans to erect fences and allow winter sheep grazing on cliffs in north Cornwall are to be reconsidered by the National Trust after objections.
The trust was considering the plans at Glebe Cliffs at Tintagel as part of alternative ways to manage the land to protect plants and wildlife.
Objectors said fences would be a blot on the landscape and affect use of the area.
Trust officials said they would draw up an alternative scheme.
Access 'maintained'
The trust said it had been considering the scheme because the land had gradually become overgrown with gorse, brambles and long grasses.
Its north Cornwall property manager, Ian Kemp, said its farmer tenant and Natural England were embarking on a 10-year scheme to reverse that for the benefit of flora, fauna and wildlife.
However, objector Katie Leeds said the fence would "completely blot the landscape" and prevent the cliffs from being the "wild area that it is at the moment".
John Douglas, who exercises his dog off the lead every day at the cliffs, added that the plans "would reduce recreational use".
Mr Kemp said that the proposed scheme would not reduce recreational access.
He said: "There will be as much access to the site as there ever has been."
However, trust managers said they had listened to the objectors and accepted that there was very little local support for the plans, so they were to draw up an alternative scheme.
The trust said: "All the access that was available has to be maintained".